Update: Wednesday Delays, Closures And Power Outages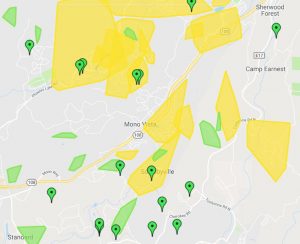 Revised restoration times for the Willow Springs and Soulsbyville areas

View Photos
Update at 5 p.m.: A bit of good news for some PG&E customers in the Willow Springs and Soulsbyville areas. Nearly 150 now have electricity. Originally, the utility had posted that 591 customers in that area would have to wait until around 2 p.m. tomorrow (Thursday) before their electricity would be restored. That number has been revised to 90. However, another 354 of those customers restoration has now been updated to not available.
Update at 4:30 p.m.: PG&E crews have made progress today on getting Mother Lode customers electricity back on, but there are still over 7,100 without power this afternoon.
In fact, the utility reports that 591 customers in the Willow Springs and Soulsbyville area will have to wait until around 2 p.m. tomorrow (Thursday) before their electricity is estimated to be restored. Additionally, in Tuolumne County, there still nearly 4,900 customers without power, which is down nearly half from this morning. Most of the outages remain along Highway 108 in the Twain Harte, Soulsbyville and Tuolumne and along Highway 49 from Sonora to Columbia. Also, outages stretch along Highway 120 in the Groveland, Pine Mountain Lake and Buck Meadows areas.
In Calaveras County, there are over 2,300 customers in the dark, stretching from Murphys to Mountain Ranch to West Point.
The utility acknowledges that many of these outages are attributed to "equipment issues" and most have not been assigned estimated restoration times. The company reports that crews will continue working overnight to turn the lights back on as quickly as possible.
Update at 9:10am:  ATCAA Food Distribution Cancellations for today are listed below:
-Twain Harte Community Center- Twain Harte
-Mt Calvary Lutheran Church – Sugar Pine
-ATCAA Food Bank – Jamestown
Original story posted at 6am: Sonora, CA — Power outages are still plaguing the Mother Lode, but progress was made overnight. At the height of yesterday's outages there were over 25,000 PG&E customers without power. That number has been cut nearly in half this morning to just over 11,300. In Tuolumne County, there are more than 8,700 customers impacted between Twain Harte, Soulsbyville, Sonora, Tuolumne, Groveland and Buck Meadows.
In Calaveras County, those without lights this morning are over 2,600 and stretching from Murphys to Mountain Ranch to West Point. Most of these outages do not have an estimated restoration time.
Yesterday was a unique occasion where virtually all schools in Tuolumne and Calaveras counties were closed due to low snow. Today there is a mix of cancellations and delays due to the very icy conditions and power outages. Click here to view the latest, and make sure to check back and refresh the page as new information comes into the news center throughout the morning.
Also, Tuolumne County Government offices will not open until 10 o'clock this morning, and the Watch Program is cancelled today. Tuolumne County Superintendent of School's Office will also open two hours late.
The region will attempt to dry out today as the lower foothills receive partly sunny skies and highs in the mid-forties.