Update: Sonora Looking To Tax Cannabis Deliveries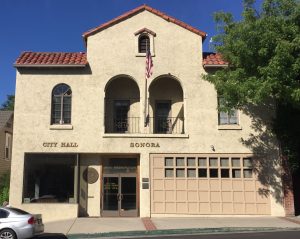 Sonora City Hall

View Photos
Update at 4pm: Sonora City Administrator Tim Miller reports that tonight's (2-4-19) Sonora City Council meeting has been cancelled due to the weather. The marijuana item referenced in the earlier below post will be taken up at a future meeting.
Original story posted at 10:20am: Sonora, CA — Following actions by the state's Bureau of Cannabis Control, the Sonora City Council is considering placing a tax on marijuana delivery services.
About a week ago the state finalized its regulations regarding enforcement of the legal cannabis market, and of note to many cities and counties, is a section that allows commercial marijuana deliveries to occur anywhere in the state. Effectively, cities and counties are not allowed to pass ordinances banning mobile deliveries.
Under Measure N approved by city of Sonora voters last November, the city council can impose a tax of up to 15-percent of gross receipts on marijuana businesses.
City staff is recommending the council begin the process of implementing a 15-percent tax on non-store-front cannabis deliveries made in the city. Discussion will take place at tonight's city council meeting that gets underway at 5pm at city hall.