Sonora Man Arrested For Lewd Acts Against Child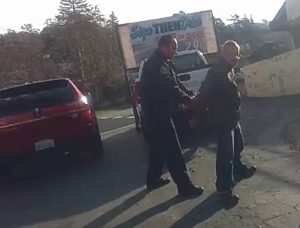 Ludwig being taken into custoday

View Photos
Sonora, CA – A frantic grandmother reported to Sonora Police that a man tried to sexually assault her 10-year-old granddaughter.
The incident happened a week ago on Thursday (February 24) in the parking lot at the Down Town Plaza on Stockton Road. Once on the scene, the Grandmother detailed to officers that the girl left the store to get something from their vehicle parked outside the store and that is when a man approached her. He allegedly talked to the girl about touching her private parts and then reached out at her. The girl took off running and the man took off running, according to police.
Detectives began investigating the case and on Friday (February 1) they arrested 41-year-old Michael P. Ludwig III while he was on the job at a downtown Sonora business. Police would  not reveal the name of the business.  Ludwig was taken into custody without incident for felony assault to commit lewd acts against a child. His bail was set at $100,000.