Newsom Issues Super Bowl Challenge To Massachusetts Governor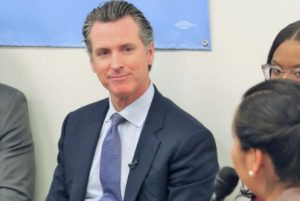 Governor Gavin Newsom

View Photos
Sacramento, CA – A long standing tradition leading up to the Super Bowl every year is each state's governors claiming their team will be victorious and setting a wager for the loser.
This year is no exception as Governor Gavin Newsom today announced a charitable interstate wager with Massachusetts Governor Charlie Baker dependent on Sunday's victor in Super Bowl LIII between the New England Patriots and the Los Angeles Rams. The stakes set forth by Newsom require the Governor of the losing team to perform a community service project along with his staff, while wearing the jersey of the winning team.
"I have great respect for Governor Baker and the people of Massachusetts. Our states have so much in common," said Governor Newsom. "But by the time the game is over on Sunday, I'm confident that Sean McVay and the Rams will have the good people of the Commonwealth crying in their chowder."
Governor Baker retorted, "Contrary to popular belief, the New England Patriots are still here and heading to their third straight Super Bowl to give the Rams everything they've got. We look forward to watching the G.O.A.T., Tom Brady, get his sixth ring, and to a local California charity reaping the benefits of yet another championship for New England."
We will soon know who will be eating their words as kickoff is set for 3:30 p.m. (PST) on Sunday.