The State Of Jefferson Movement Continues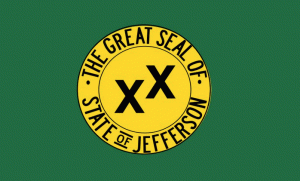 State of Jefferson

View Photos
The movement calling for the State of Jefferson to become the USA's fifty-first state continues.
David Tichenal, local resident and advocate for the State of Jefferson, was Friday's KVML "Newsmaker of the Day".
The new state could include Tuolumne, Calaveras, Mariposa, Amador, Stanislaus, El Dorado and nearly every county north of Sacramento.
"We are ready to update the general public during our upcoming fundraising event. It will be held on Saturday February 16th, at the Sonora Elks Lodge starting at 5:30 PM," said Tichenal. "Our keynote speaker will be state of Jefferson founder Mark Baird from Siskiyou County. We will have an update on the lack of 2nd Amendment Rights in California. Merchandise, light refreshments and desserts will be available. There is also a no-host bar. Additionally, there will be door prizes, raffle items and a gun drawing. We are a long way from the finish line and continue to need the public's generous support."
According to Tichenal, all of the counties that could potentially be included in the State of Jefferson, have not had adequate representation in the California state legislature for the past several decades. The most expeditious way to restore adequate representation is to create a new state where local issues by local people can be dealt with and proper representation will be restored.
Tickets to attend the fundraiser are $10 at the door.
Tichenal invites anyone who may or may not be familiar with the State of Jefferson, to come hear more information about the movement.
For more online information, log onto www.tuolumnecountysoj.com or cal Tichenal at 209-288-8323
The "Newsmaker of the Day" is heard every weekday morning at 6:45, 7:45 and 8:45 AM on AM 1450 and FM 102.7 KVML.