Drones To Aid In Wildfire Prevention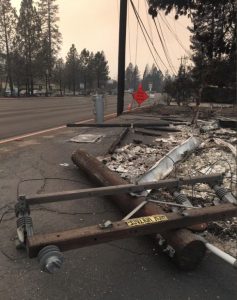 Camp Fire Destruction

View Photos
Sonora, CA – While Pacific Gas & Electric Co. (PG&E) was back in a U.S. courtroom a day after filing for bankruptcy, California's top utility regulator was addressing the issue of wildfire prevention to law makers.
The company was trying to convince a judge at a hearing Wednesday not to order dramatic steps aimed at preventing its equipment from causing more wildfires. At the same time,  state lawmakers questioned the state's top utility regulator as to whether the California Public Utilities Commission (CPUC) is acting fast enough to mitigate future fire damage. The commission's president Michael Picker relayed details about wildfire safety efforts and PG&E's bankruptcy to law makers. He revealed that it would take as many as 20,000 workers to inspect every utility pole and wire in the state, which he says will not work. Instead, he suggested regulators might turn to drones to monitor the equipment.
Meanwhile, some 1,000 lawsuits have been filed demanding the nation's largest utility pay for damages caused by the deadly and devastating wildfires in the state. The lawsuits involve thousands of people, companies, cities and counties, and claim the utility's equipment caused wildfires. Plaintiffs range from a rancher's claiming a $3,000 loss to insurance companies' demands for billions of dollars in reimbursements for payments to policyholders. PG&E lawyers have filed denials of responsibility
As reported here on Tuesday the utility filed for Chapter 11 bankruptcy cited about $30 billion in potential liability for fire related lawsuits.