Update: February Begins With A Winter Storm Watch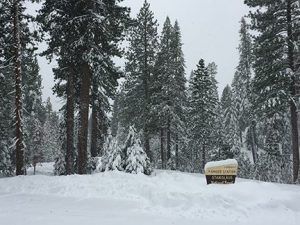 Stanislaus National Forest

View Photos
A series of winter storms is expected to bring hazardous winter driving conditions to the Sierra Nevada this weekend.
The National Weather Service has issued a Winter Storm Watch for the Sierra Nevada above 5,000 feet, from Friday afternoon through Monday evening.
The snow levels will start around 6,000 to 7,000 feet on Friday afternoon before dropping to 5,000 feet on Saturday. The snow levels will continue to drop to 3,500 to 4,500 feet on Sunday and Monday.
The total snow accumulation above the 5,000 foot elevation, will range from two to five feet.
The heaviest snow is expected late Friday evening into Saturday morning. There will be a break in the snow on Sunday. However, heavy snow will return on Sunday afternoon and continue through Monday evening.
Wind gusts Friday night and early Saturday could top fifty mph. There will be significant reductions in visibility as the snow combines with gusty winds. Tree branches could fall and damage to trees and power lines is possible. The winds could gust as high as seventy mph, along the crest of the Sierra.
Weekend travel through the mountains is encouraged before Friday afternoon. Otherwise, travel will be very difficult if not impossible.
A Winter Storm Watch means that there is the potential for significant snow, sleet or ice accumulations that may impact travel.