Speeding Stop Results In Big Pot Bust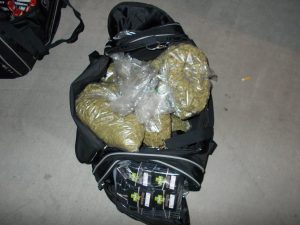 Processed marijuana found in vehicle

View Photos
San Andreas, CA – A CHP officer pulled over a speeding vehicle in San Andreas and discovered not only large quantity of drugs and hundreds of cylinders containing THC, but a hidden loaded weapon too.
The traffic stop took place at a local gas station around 10:30 p.m. on Sunday. Inside the vehicle were 21-year-old Garrett Larsen and 20-year-old Richard Tillman both from Mi Wuk Village. After questioning the men, the officer uncovered a stash of ten pounds of marijuana, 210 grams of individual packages containing concentrated cannabis, and nearly 650 electronic cigarette refill cartridges containing THC and a concealed handgun. That prompted the officer to call the Calaveras County Sheriff's Office for back up.
Larsen and Tillman were arrested without incident. They were booked in to the Calaveras County Jail and face charges of having over 28.5 grams of marijuana, sales, transportation and concealing a loaded firearm. The pair were issued citations and released from custody after their booking.