Loud Blast Triggers Multiple Calls, Major Injuries, Marijuana Grow Bust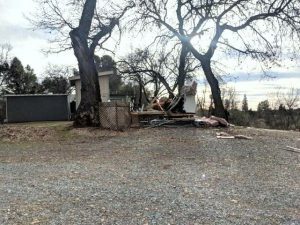 Outbuilding destroyed in Jan 26 2019 explosion off Quartz Mine Rd Mountain Ranch CCSO Photo

View Photos
San Andreas, CA – An explosion resulted in the transport of a woman to an out-of-county trauma center and an investigation into an illegal marijuana operation.
According to Calaveras County sheriff's officials, just after 8 o'clock Saturday morning multiple reports came ringing into the dispatch center of a loud blast in the area of the 6000 block of Quartz Mine Road in Mountain Ranch. Upon deputies' arrival, neighbors directed them towards the location of the blast and subsequent sounds of people yelling.
At the site, deputies found an outbuilding apparently demolished from an explosion. While conducting their investigation and attempting to locate subjects on the property, they overheard radio communications indicating that a 41 year old female suffering from burns had arrived at the Mark Twain Medical Center emergency room.
From statements obtained thus far, deputies determined that the explosion appears to have been caused by a propane stove that was left on in the outbuilding overnight. Apparently, the explosion occurred after the victim entered and attempted to turn the stove off. Officials say her condition status is unknown at this time.
Other responders to the incident included a CCSO Explosive Ordinance Device Team and members of the Marijuana Enforcement Team (MET) as evidence of mixed light and indoor marijuana cultivation were discovered. While an investigation is ongoing with regard to the grow operation, the MET seized 1,000 marijuana plants and 136 pounds of processed marijuana.