Searchers Locate Unidentified Man Found Dead In Wooded Area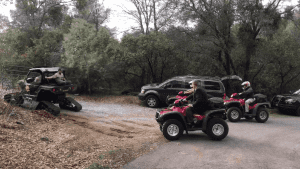 TCSO desceased person investigation

View Photos
Sonora, CA — A death investigation is underway after the body of a man was found over the weekend.
Tuolumne County sheriff's officials say they received a report late Friday evening of a deceased person in a remote unincorporated area between Jamestown and Sonora. Specifically, the location was reported to be in the vicinity of Gibbs Radio Tower, a wooded area situated between Golden Dove Lane and Rough and Ready Road that officials note is frequently accessed by homeless.
While deputies searched the area that night, darkness impeded their ability to locate anyone. However, Saturday at daybreak, with the help of additional resources searchers were re-dispatched and officials confirm that they did locate the body of a deceased male.
Detectives are actively investigating the case and have not yet determined whether or not foul play is suspected. To determine the man's identity and cause of death an autopsy is scheduled for today.