Alleged Thief Sort Of Caught Red Handed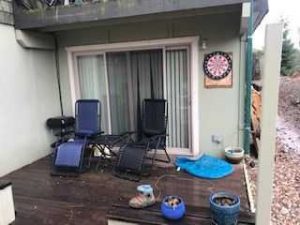 Glass sliding door at Groveland condo

View Photos
Groveland, CA – A Groveland condo owner got a shock when he saw a door to his home open and a hand reach inside.
When deputies arrived at the residence located in the 19000 block of Dyer Court in Groveland the homeowner told them that he confronted the man on the other side of the door. Tuolumne County Sheriff's spokesperson Sgt. Andrea Benson says that is when the suspect quickly apologized and took off prompting the property owner to called 911. Surveying the area, deputies discovered that the alleged burglar walked onto a ground level patio to access the sliding door. Sgt. Benson says the suspect then crouched down low to the ground to push the door open while trying to enter the home.
Further investigation led deputies to the home of 37-year-old Jesse Whitehurst of Groveland. After questioning, he was taken into custody without incident. Whitehurst was charged with burglary. His bail is set at $50,000.