Traveler Delays Continue During Emergency Highway 140 Rehab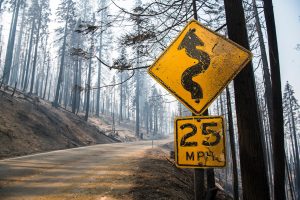 Ferguson Fire Damage

View Photos
Sonora, CA – Work in the Ferguson Fire burn scar is creating motorist delays of up to 15 minutes this week that will likely continue well into spring.
Caltrans reports that travelers along Highway 140 in Mariposa County may experience lengthy to brief waits until the end of April while the emergency rehabilitation work is underway. This week, expect traffic to idle for up to 15 minutes on the 15-mile stretch between Slate Gulch and the Yosemite National Park Boundary from 7 a.m. until 5 p.m. due to slope repairs and cleaning
The Highway 140 work scope is focusing between Briceburg and Yosemite National Park impacted by the 96,000-plus-acre Ferguson Fire, which burned through the area last summer. Among the projects are underground culvert drainage replacement and repair, hazard tree removals and slope stabilization measures.
As of today, officials report that crews have replaced at least four culverts, installed erosion control devices, and completed three miles of tree work and slope scaling to help mitigate future mudslides and debris flow at an estimated cost to date of $1.5 million.
Some of the work has required temporary closures and more are possible. In addition, Caltrans has closed the highway twice since last fall ahead of incoming storms to keep motorists from using it under conditions when mudslides or debris flows could create travel hazards.