Truck Left Idling Lands Sleeping Driver In Jail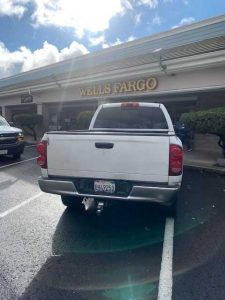 Truck found parked in Sonora Plaza

View Photos
Sonora, CA – A truck with the engine running and the driver passed out behind the wheel in front of the Wells Fargo Bank on Mono Way prompted a curious citizen to call 9-1-1.
The Tuolumne County Sheriff's office received the tip on Monday morning and a deputy responded to the scene at the Junction Shopping Center on  Mono Way. A tap on the window of the Dodge pickup awoke the sleeping driver, 18-year-old Mason Garris of Sonora. After rolling down the truck's window, Garris told the deputy he pulled into the lot at around 5 a.m. and then fell asleep.
During questioning, Garris confessed to having cocaine inside the truck. A search of the pickup uncovered not only the cocaine, but psilocybin mushrooms, ammunition, drug packaging, scales and evidence of drug sales. Sheriff's officials did not detail the amount of drugs found.
Garris was handcuffed and taken to the Tuolumne County Jail. He faces charges for felony possession and transportation of drugs for sale and prohibited person possessing ammunition. His bail was set at $10,000.