Alcohol Involved In Couple's Deadly Yosemite Fall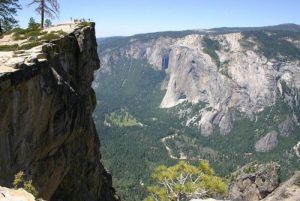 Taft Point in Yosemite (left)

View Photos
Yosemite, CA – Alcohol may have played a role in the tragic fatal fall last year at Yosemite National Park involving a young couple from India who wrote a travel blog.
The Mariposa County Coroner's Office released the pair's autopsy reports today. While they showed that 30-year-old Meenakshi Moorthy and her husband, 29-year-old Vishnu Viswanath, each had intoxicating levels of ethyl alcohol, a substance found in most alcoholic drinks in their system, no traces of drugs were found.
When Clarke Broadcasting inquired about their exact level of intoxication, a coroner's official relayed that the toxicology report was "able to show they had been drinking, but not how much." She explained "We don't know the exact intoxication level because it was taken from liver samples and not blood samples, like when someone is determined to be drunk driving — so we don't have their blood-alcohol ratio." The official added the official cause of death for both was multiple injuries to the head, neck, chest and abdomen from the fall.
In October, the remains of the couple were found by rescuers 800 feet below Taft Point. Visitors reported finding a tripod and camera on the edge of the popular overlook, leading to the possibility that the two may have been taking a "selfie"  before their fall, as earlier reported here. Pictures they previously shared on social media indicated they liked to pose in scenic spots at sunset and sometimes in daring locations. The last time the pair was reportedly seen alive by other visitors was at that Yosemite cliff, but their fatal fall was not witnessed by anyone, according to the coroner's official.