Two Hikers Rescued In Yosemite National Park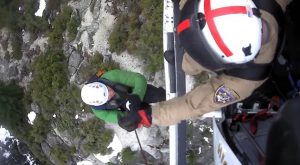 Rescue In Yosemite National Park

View Photos
Yosemite, CA — Two men visiting from England were rescued in Yosemite National Park.
The CHP reports that the men became lost in the snow while hiking in the area of North Dome. Thankfully they were able to make a 911 call to alert officials. A CHP helicopter flew overhead and spotted the men wedged within a crevasse on the east side of North Dome. Due to a heavy incoming storm system, it was decided the quickest and most effective way to rescue the men was to put safety gear on National Park Service Rescue Team members and have them placed via helicopter and rope into the crevasse. The hikers were then safely located, packaged in a rescue harness, and pulled to safety.
The hikers later reported that they were attempting to descend into Yosemite Valley but they lost track of the trail, due to the heavy snow, and became trapped in the crevasse.  They were then transported to Ahwahnee Meadow where Yosemite National Park Paramedics were staged to receive and treat the two cold and wet visitors. The incident occurred late last week.