Update: Lingering Power Outages In The Mother Lode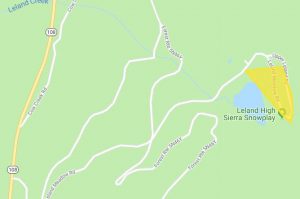 Bumblebee power outage

View Photos
Update at 10 a.m.: The last of the nearly 5,000 power outages sparked after the storm system passed through on Thursday has been repaired. It impacted 58 PG&E customers in the Bumblebee area off Highway 108 above Strawberry in Tuolumne County, many who were without power since Friday night. The utility reports just a handful of single outages scattered across the Mother Lode, which they hope to have power restored to by the end of the day.
Original post at 6 a.m.: Tuolumne County, CA — The electricity was out overnight for more than 58 PG&E customers in the high country area of Tuolumne County.
Over the past couple of days crews worked to turn the lights back on for more than 5,000 customers following a storm system that passed through the Mother Lode. This last group of customers is in the Bumblebee area of off Highway 108 north of Strawberry. The outage stretches along Leland Reservoir, Leland Meadow and Upper Leland roads.
The lights went out around 5 p.m. Friday night. The utility has a crew at the scene working to restore power to the area, but no estimated repair time has been given.