Man Accused Of Stealing Thousands From An Elderly Mother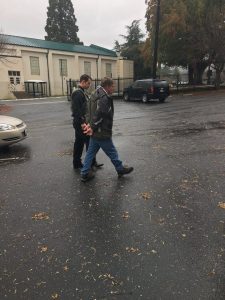 Henderson arrest

View Photos
Sonora, CA – A tip triggered an investigation into the ID theft and burglary of an elderly woman, which totaled tens of thousands of dollars.
Yesterday, Tuolumne County Sheriff's Detectives were able to put handcuffs on 47-year-old Eric Henderson of Columbia. Investigators alleged that he broke into his 79-year-old mother's room and stole several bank cards. Sheriff's spokesperson Sgt. Andrea Benson relays that Henderson used her pin number to steal over $25,000 during a two year period. She notes, in just a two month span during that time, he made nearly 50 transaction and withdrawals at several banks and the Black Oak Casino that added up to more than $15,000.
Henderson was arrested and booked into the Tuolumne County Jail for burglary, identity theft, and financial elder abuse. His bail was set at $50,000. Sgt. Benson reminds the public that if elder abuse is suspected report it to the Sheriff's office immediately at 209-533-5815.