More Mountain Snow Is Expected On Sunday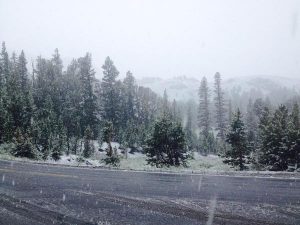 Highway 108 Sonora Pass

View Photos
Only light precipitation is expected over the next couple of days, as high pressure over the western U.S. sends heavier precipitation north of the region.
In addition, the snow levels will be fairly high, so only an inch or two of snowfall is expected in the mountains both today and Saturday.
A stronger weather system is forecast to move through northern California on Sunday.
This system will bring with it heavier precipitation, with several inches of snow over the Sierra Nevada from Sunday morning through Sunday evening.
Although snowfall accumulations are not expected to be as significant as earlier this week, enough snowfall is likely to create significant travel issues.
In addition to the snowfall, gusty winds are anticipated with this weather system, which when combined with the snowfall, will bring lowered visibilities and difficult diving conditions.
Therefore, travel this Holiday weekend should be planned carefully to avoid the most hazardous period Sunday through Sunday evening.
If you must travel over the Sierra this weekend, try and travel before Sunday morning or on Monday and continue to monitor the latest road and weather reports for possible changes in the forecast regarding this system.