Driver Of HWY 4 Crash Identified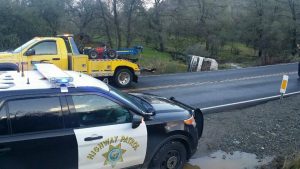 Highway 4 near Pool Station Road crash in the Angels Camp

View Photos
Angels Camp, CA – The wicked weather that wreaked havoc on Mother Lode roadways also played a role in a solo-vehicle rollover crash in Calaveras County, according to the CHP.
As reported earlier here, the wreck happened just before 1 p.m. Thursday on Highway 4 near the Pool Station Road intersection in the Angels Camp area. The San Andreas Unit of the CHP reports that the driver, 57-year-old James Vierra of Turlock, lost control of his truck when he came upon some muddy water across the roadway. The back end of the pickup began to slide. While trying to remain on the roadway, the CHP details that Vierra overcorrected causing the truck to hit a reflector sign and then rolled over into a ditch. Vierra was not injured in the crash.
The CHP reports that officers noted that Caltrans signs warning motorist to "slow down due to roadway flooding" were posted in both directions near the crash site. Neither drugs nor alcohol are suspected in the collision.