Pot Bust Nets Nearly 600 Plants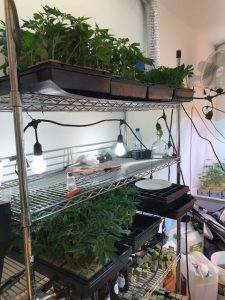 Pot plants found in Mountain Ranch bust

View Photos
Mountain Ranch, CA – A raid on a Mountain Ranch home netted nearly 600 pot plants and one arrest.
Wednesday, Calaveras County Sheriff's Marijuana Enforcement Team with a warrant for illegal marijuana cultivation in hand searched a property in the 9000 block of Wendell Road. While surveying the lot, the team discovered several outbuildings. When deputies looked inside one of them they found a large commercial sized generator that was running at the time. Another building had been converted into and indoor marijuana cultivation area, which contained 583 marijuana plants that were confiscated and destroyed.
Deputies located one person at the residence, 23 year old Jose Fernandez-Zavala, who was taken into custody without incident. He was booked in to the Calaveras County Jail on drug related charges including maintaining a drug house and operating an illegal marijuana cultivation. Fernandez-Zavala's bail was set at $50,000. Sheriff's officials relay that no further information is available at this time as the incident remains under investigation.