TCSO Starting Explorer Program For Local Teens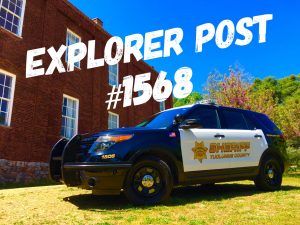 TCSO Explorer Post

View Photos
Sonora, CA — The Tuolumne County Sheriff's Office is implementing a new program designed to teach local youth about the various elements of law enforcement.
Explorer Post 1568 is in conjunction with the Scouts of America.
The local effort is one of the new initiatives under Sheriff Bill Pooley, who says, "It is for high school aged kids who will come out and learn the different aspects of what it is to be a deputy sheriff in Tuolumne County."
Those in the program will learn about dispatch, records, custody, patrol operations, search and rescue and boating enforcement.
Sheriff Pooley adds, "It's also great for our recruiting and retention because a lot of the deputies that are working for us were kids in an Explorer program back in the day."
Interested candidates must be between 14 and 18 years of age and have already completed the eighth grade. Interested candidates are encouraged to contact Sgt. Speers at (209) 533-5815 or speak with one of the School Resource Deputies when they are on your campus.
The City of Sonora Police Department also has an active Explorer program.