Update: Storm System Leaves Many Roads A Mess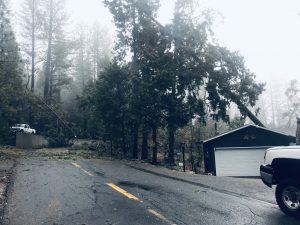 Tree Blocking Lama Hisum Road

View Photos
Update at 6:15 p.m.: To give the public an idea of just how busy the storm kept emergency crews overnight. Clarke Broadcasting checked in with Tuolumne County Sheriff's Officials regarding the havoc left behind by the blustery storm that blew through. In response, the sheriff's office compiled and provided this list of calls that came into dispatch related to traffic hazards like downed trees and flooding:
Received a report at midnight regarding a tree down and blocking the roadway at 108 and the Sugar Pine Cut Off.
Shortly after midnight we received a second call regarding a tree blocking the roadway at Banderilla Drive, near Don Pedro Elementary.
In Big Oak Flat, at approximately 0100 hours, a citizen called to report a tree fell on his house causing damages.  An elderly man was trapped inside the home and safely evacuated by CALFIRE.  Electrical wires were down, but did not cause fire.
Hwy 108 near Long Barn, 0110 hours, a citizen reported a tree fell on her house, knocking down adjacent power lines.  No injuries and no fire reported; however, the tree caused substantial damage.
At 0120 hours, near the area of Sugar Pine and Sugar Pine Cut-Off, a report of three large trees down blocking the roadway and taking down several power lines.  PG&E advised to respond.
At 0130 hours, in Columbia, near the county line a large tree down and blocking Parrotts Ferry Road.
At 0200 hours, near Smith Station and Rock Hammer Road, Groveland, a large pine tree fell blocking the roadway.
At 0215 hours, a citizen reported the roadway flooded on Hwy 108 near Victoria Place, Jamestown.
At 0340 hours, in Soulsbyville, tree down blocking the roadway on N. Sunshine Road.
At 0545 hours, in Twain Harte, down tree completely blocking South Fork Road near Wild Cat Ridge.
At 0600 hours, in Jamestown, down tree completely blocking Campo Seco Road near Lime Kiln Road.
Sheriff's officials also noted that in conjunction with the above list of incidents there were nine additional downed trees calls for service that forced road closure in the following locations; Twain Harte, Jamestown, Groveland and Soulsbyville.
Update at 11:40am: While crews have been making progress clearing many of the earlier reported incidents, there is a new tree down in Calaveras County blocking Carson Street near Redhill Road. In addition, residents in Mi Wuk Village are reporting numerous downed trees. The one pictured is blocking Lama Hisum Road.
Elder Lane near Groveland continues to be blocked, near 120, due to a tree into a power line.
Continue to allow yourself extra time when traveling today.
Original story posted at 7:15am: Sonora, CA — There are multiple traffic hazards to be aware of in the Mother Lode this morning because of downed trees and mudslides.
In Tuolumne County, the CHP reports that a tree is completely blocking Yankee Hill Road near Orion Mine Road. A tree is also blocking Elder Lane near the Highway 120 intersection. A stretch of Wards Ferry Road, approximately three miles from Tuolumne Road, is impassable. Heavy mud is impacting the 31000 block of Hardin Flat Road, and any RV's trying to get through will get stuck. Both lanes of Corcoran Gray Road in Groveland is completely blocked near the intersection of Doffle Meyer Road. There is also difficulty getting through Confidence Road due to mudslides near Cedar Springs Road, and Jamestown Road near Racetrack Road.
Tuolumne County road officials are responding to the various areas.
In Calaveras County, a vehicle has driven off O'Byrnes Ferry Road and an ambulance is responding to the scene.
Also, Yosemite National Park has closed the Highway 120 entrance gate until sometime later today when officials can assess any potential storm damage.