Update: Vehicle Crashes Into A Sonora Creek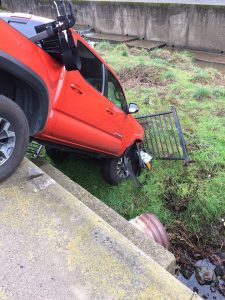 Truck into creek on Stockton Road
Update at 1:30 p.m.:  Sonora Police have revealed new details surrounding a pickup crash just before 11 a.m. on Stockton Road that shutdown the roadway for a short time.
Police report that the driver of the truck was a 62-year-old Sonora woman, but they are not releasing her name at this time. She was heading eastbound on the roadway when for unknown reasons she lost control of the pickup, which smashed through a railing and plummeted down an embankment crashing into the creek bed, according to police. The woman had to be freed from the truck by emergency workers, but she did not suffer any injuries. Police relay that neither drugs nor alcohol played a role in the collision.
Update at 11:10am: Stockton Road is now clear and traffic is moving freely.
Original story posted at 10:50am: Sonora, CA — The Sonora Police Department reports that a vehicle has gone off Stockton Road and into a creek.
There is a heavy law enforcement presence in that area near downtown Sonora, so you will want to avoid Stockton Road if possible. No injuries have been reported at this time. What led to the crash is not immediately known.
A special  thank you to our community partners Kelsey East and Erin Hall.