Stormy Weather Results In Sand Offerings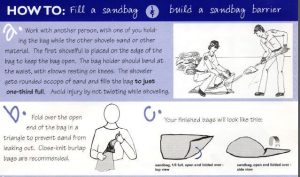 Sandbag diagram

View Photos
Sonora, CA – As a pacific storm barrels towards the Mother Lode, counties are offering sand to the public in anticipation of possible flooding.
Tuolumne County Office of Emergency Services along with the roads division indicate that individuals will need to bring their own bags and a shovel. The county released this information on four locations where sand will be available:
Tuolumne Road Yard – 18870 Birch Street
Tuolumne City Fire Dept.-Jamestown Road Yard – 18188 7th Ave
Big Oak Flat/Groveland Road Yard – 11240 Wards Ferry Rd.
Columbia Airport – 10723 Airport Rd.
The Calaveras County Office of Emergency Services and Public Works Department also asks residents to bring a shovel to the nine locations across the county that are currently stocked with both sand and bags. They are asking people to limit the number of sand bags to ten per resident. Below is the list of sites provided by the county:
Arnold Maintenance Yard, 1119 Linebaugh Rd. (Closes at 3:30pm)
Glencoe Maintenance Yard, 16151 Hwy 26 (Closes at 3:30pm)
Jenny Lind Yard 11558 Milton Rd. (Closes at 3:30pm)
San Andreas Rd Yard, 891 Mt Ranch Rd. (Closes at 3:30pm)
Mountain Ranch Community Center Parking lot next to the Public Safety Substation, 7869 Whiskey Slide Rd.
Murphys Fire Station, 37 Jones St.
Vista Del Lago Cul-de-sac near Valley Springs Dental, 313 Vista Del Lago
Mangili Rd. Cul-de-sac at Valley Springs Sports and Fitness, 145 Mangili Rd.
Copperopolis Fire Department, 370 Main St.