Sheriff's Office Asks Public's Help To Locate Wanted Man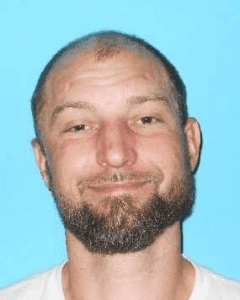 Christopher Snyder TCSO Photo

View Photos
Sonora, CA — Sheriff's officials are seeking a Sonora driver who allegedly slammed into the patrol vehicle of the deputy who was trying to pull him over.
According to Tuolumne County Sheriff's spokesperson Sgt. Andrea Benson, the incident occurred Sunday night on Yankee Hill Road in Columbia as deputies attempted to stop a green Honda Accord for an expired registration.
She reports that as soon as the driver spotted the deputy, he took off. The deputy, who caught up with the vehicle, noticed it had slid off the roadway and collided into a metal gate in front of a home. However, as he pulled his patrol car behind the Honda, the driver put his car in reverse then hit the gas pedal, and slammed into the patrol car before taking off. A chase ensued but the driver, who stopped and exited the vehicle in a Glory Gulch road driveway, fled on foot.
Now identified as 35-year-old Christopher Snyder of Sonora, Sgt. Benson says her office is seeking his arrest for evading, driving on a suspended license due to DUI, and assault with a deadly weapon. Anyone with any information regarding Snyder's whereabouts is asked to call dispatch at 209 533-5815. To view his photo, click into the image box.