Annual Flushing Of Pipes In Sonora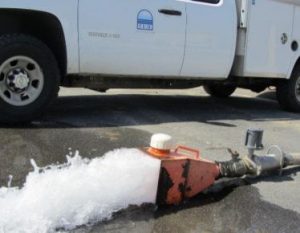 TUD flushing of distribution system

View Photos
Sonora, CA: Beginning this week, Tuolumne Utilities District (TUD) is turning on the taps in its distribution system to ensure water quality.
It is a yearly event for the district to help flush water lines of any sediment or minerals that may accumulate in pipes throughout the year. The flushing will be done daily between 8 a.m. and 3 p.m., weather permitting, with crews beginning in Sonora and continue through April until the entire system has been flushed. Most of the work will be done near hydrants. District officials provide details on what the public can expect during flushing of the water lines:
Don't be alarmed if you observe substantial volumes of water flowing in drainages or alongside the road. This is typical for flushing.
You may experience fluctuations in service pressure. If pressure problems persist, please contact the District.
If you have notice cloudy water after the water lines have been flushed, please turn on an outside hose bibb in order to flush your service line prior to where the water enters the house.