Recent Storms Boost Sierra Snowpack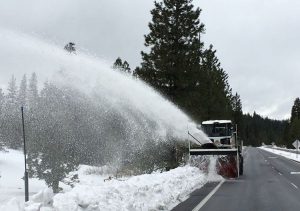 Clearing Snow On Highway 108 Sonora Pass

View Photos
Tuolumne County, CA — Over the past few days some stretches of Highway 108 Sonora Pass received as much as two feet of additional snow.
After the weather cleared yesterday, Caltrans crews went out and began the process of clearing the high country snow and debris from Highway 108 and the other regional highways. We reported last Thursday that the California Department of Water Resources was estimating that the Sierra snowpack was around 67-percent of its average for the date. As of this morning, electronic sensors put the figure at 84-percent of average. Parsing the numbers further, the northern sierra is 79-percent, the central sierra is 87-percent (includes Tuolumne and Calaveras counties) and the southern sierra is 86-percent.
More wet weather is projected for later this week. Click here to view the latest information from the National Weather Service.