Newsom Takes Over As California Governor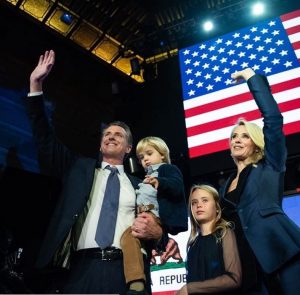 Gavin Newsom and family celebrate election victory

View Photos
Sacramento, CA — California officially has a new Governor as Gavin Newsom was given the oath of office on the first day of the legislative session.
He was sworn into office with his wife and children standing nearby. Afterwards he commented, "Peoples lives, freedoms, security, the water they drink, and the air we breathe, all hang in the balance. The country is watching us, the world is waiting on us, and the future depends on us…and we will seize the moment."
Newsom replaces the termed out Governor Jerry Brown. He indicated that healthcare, the environment and natural disasters will be among the big issues of discussion on tap during the coming weeks.
The Senate Republican leader, Patricia Bates, has a released a statement reading, "California Senate Republicans are committed to working with Governor Newsom to protect essential state services, expand employment and job creating opportunities to all Californians, and ensure that our state is able to pay its financial obligations through a balanced budget."
Governor Brown, meanwhile, has stated he will leave Sacramento to now reside on his ranch property in Colusa County.