A Christmas Grinch Busted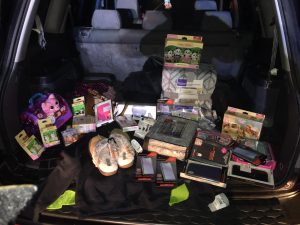 Stolen items found in vehicle

View Photos
Sonora, CA — A clever deputy made sure he was in the right place at the right time to nab a Christmas Grinch that had made off hundreds of dollars of stolen goods.
A Walmart employee actually reported the crime to the Sonora Police Department on Wednesday and also described the getaway car. A be-on-the-lookout went out to area law enforcement. That gave a Tuolumne County Sheriff's Deputy an idea to stake out the area of Highway 108 in Jamestown and lay in wait for the vehicle to hopefully use that route for their getaway. And that is just what happened a few minutes later as the deputy was able to pull up behind the vehicle as it drove by and make a traffic stop.
Behind the wheel was 29-year-old Eric Ferrari of Modesto. A search of the vehicle turned up nearly $900 worth of stolen merchandise including toys, electronics and a flat screen,  TV. Police returned the loot to Walmart.