Update: Crash Impacts Traffic In Jamestown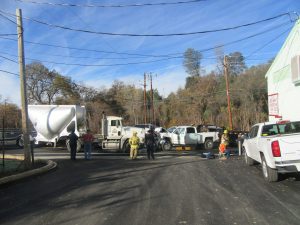 Dec 20 2018 pileup at Jamestown Road near 5th Avenue

View Photos
Update at 12:15pm: A motorist not used to seeing a new stop sign at a Jamestown intersection triggered a pileup that tied up traffic for nearly two hours.
According to CHP Sonora Unit spokesperson Officer Paul Mote, the three-vehicle crash occurred around 9:20 on Jamestown Road at 5th Avenue when the unidentified female driver of a Toyota Prius heading south on Jamestown Road missed stopping at the sign. Proceeding into the intersection, she plowed head-on into a southbound pickup truck towing a trailer. According to Officer Mote, the truck then ran into a tractor-trailer combination that was headed north onto Jamestown Road.
Fortunately, the officer says, injuries were minor. He adds, "Nobody was believed to be under the influence of alcohol or drugs — it was just somebody traveling through the new intersection…not expecting the new stop sign to be there."
The CHP alerts travelers through Jamestown to use caution and note the changes now in place at the 5th Avenue intersection with Highway 49 and at Jamestown Road.
Original Post at 10:11am: Sonora, CA — The CHP is on the scene of a crash involving a big rig and a pickup truck.
It occurred in the 18000 block of 5th Avenue in Jamestown. Minor injuries have been reported, and traffic is backed up in the area. Travel with caution and be prepared for a delay.