TC Planning Commission Endorses General Plan Update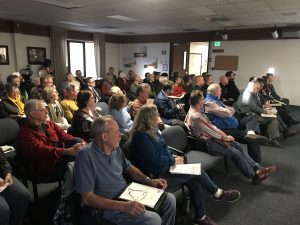 TC Planning Commission General Plan Meeting

View Photos
Sonora, CA — At the end of a four hour and 15 minute marathon meeting, the Tuolumne County Planning Commission unanimously gave its blessing to pass a new General Plan Update.
The meeting started at four o'clock in the board of supervisors meeting room. The first two hours featured an overview of the plan from county staff and a chance for members of the public to give opinions. When the meeting started there was a standing room only crowd with over 75 in attendance. 24 people spoke, 18 voiced concerns and six were in favor.
Those in favor included local leaders like Tuolumne County Business Council Executive Director Ron Kopf, the group's board chair Glenn Caldwell and District Three Supervisor elect Anaiah Kirk.
Those who raised concerns included CSERC Executive Director John Buckley, Tuolumne Heritage Committee representative Sharon Marovich, District Two Supervisor-elect Ryan Campbell, Citizens for Responsible Growth President Barbara Farkas and others.
Those in favor argued that the existing General Plan is cumbersome, difficult to navigate and was desperately in need of a revamp. Those opposed argued that the plan is being "rammed through" and does little to protect natural resources or to prevent development in fire prone areas.
By the end of the meeting, a little over two dozen community members remained in attendance.
After making slight alterations to the plan, it was endorsed by the commission with a 7-0 vote. The Tuolumne County Board of Supervisors will have the final vote on the document on January 3 at 4pm in the board meeting room. The General Plan serves as a constitution for growth and development in the county.