Honoring Retiring CAL Fire Chief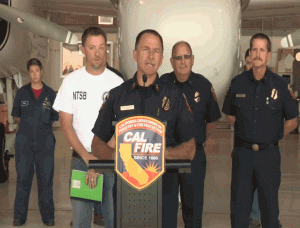 CAL Fire Chief Ken Pimlott Speaks At Press Conference

View Photos
Sonora, CA – At its last regular meeting of the year on Tuesday, the Tuolumne County Board of Supervisors gave high accolades to retiring CAL Fire Chief Ken Pimlot.
The Tuolumne County Supervisors approved a resolution honoring the retiring head of CAL Fire, Chief Ken Pimlot. Supervisor Randy Hanvelt noted that Pimlot has been a familiar face in the county, stating, "Ken was here during the Rim Fire, not once, not twice – I don't know how many time — but many times. Ken has been our friend and helped us with every issue we've had associated with fire, tree mortality and things like that. He stuck his neck out and did things that were above and beyond. He changed the rules of the game all for the best interest for the people of California and we benefitted for that."
Pimlot's career spans more than 30 years. He retires next month.