Deputies Capture Backyard Prowler, Alleged Drug Dealer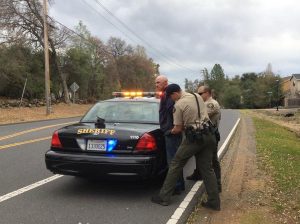 Richard Nelson Arrest Dec 16 2018 TCSO Photo

View Photos
Sonora, CA — A fence-jumping suspect and an alleged drug dealer, both wanted on felony warrants, were picked up by deputies during two separate arrests.
According to Tuolumne County Sheriff's spokesperson Sgt. Andrea Benson, several residents on Jamestown Road witnessed part of a Sunday afternoon spectacle as 42-year-old Richard Nelson attempted to flee the area. She says that just before one o'clock, dispatch received a report of a suspicious man in Sonora near a blue truck in the 20000 block of Jamestown Road near Racetrack Road. After running a check on the license plate, the dispatcher discovered that Nelson, the registered owner of the truck, was a wanted man and sent deputies out looking for him.
Nelson, who has three outstanding felony warrants including felony charges of domestic violence and criminal threats, took off running when he spotted the responding law enforcers. While he jumped several neighborhood fences in an attempt to escape, a perimeter was put in place. Following a yard-to-yard search, he was spotted in some shrubbery, quickly taken into custody and transported to Tuolumne County Jail.
Benson reports that a deputy picked up another man on felony warrants late Sunday night after finding him walking on Upper Quail Mine Road in Columbia. She says 28-year-old Joseph Bush, also on probation, was found with a hypodermic needle visibly sticking out of his pocket. A search of his jacket turned up two large baggies of methamphetamine, a digital scale, and other drug paraphernalia.
Bush was arrested and booked into the Tuolumne County Jail for possession of a controlled substance for sale, possession of drug paraphernalia and two felony warrants for violation of probation. He is currently being held without bail.