Final Sonora City Council Meeting Of 2018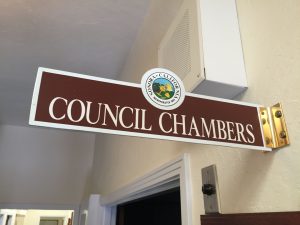 Sonora City Council Chambers

View Photos
Sonora, CA — Tonight the Sonora City Council will recognize the upcoming retirement of a longtime leader and hear a presentation regarding the creation of a city flag.
Tonight's meeting, the final scheduled one of 2018, begins at 5pm at Sonora City Hall. The council will give a certificate of recognition to retiring Marijane Cassinetto for her 24 years serving as City Clerk. Immediately after that, the city leaders will hear a presentation from resident Brett Bryant about potentially creating a city flag. At the last meeting, two weeks ago, Bryant requested time to speak to the council about the topic.
In addition, the council will vote to pass the final reading of an ordinance that will allow microbreweries to acquire use permits in non-residential zoning districts.
The city council meeting is open to the public.