Update: Hazard Spill Impacts Traffic On HWY 108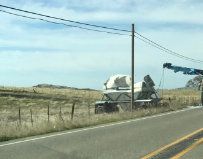 Limestone spill on J-59

View Photos
Update at 12:50 p.m.: J-59 has reopened and traffic is moving freely once again. Additional details regarding the accident and limestone spill can be viewed below.
Update at 12:15 p.m.: The CHP has updated the location of the crash to near the Green Springs Fire Station along J-59 in the Keystone area. One-way traffic control continues as the southbound lane of the roadway is blocked. Crews are sweeping up the limestone scattered on the roadway, but no time has been given regarding when the stretch will fully reopen. Further details on the crash are below the map.
Update 11 a.m.: The CHP tells Clarke Broadcasting that the "white stuff" spilled across Highway 108 at the J-59 intersection after a big rig crash has been determined to be limestone and not a hazardous material.  One-way traffic is still in place as crews try to clean-up the debris. No estimated time has been given for when the roadway will completely reopen. Further details on the wreck are below.
Update at 10:30 a.m.: Fire crews have been called to Highway 108 at the intersection of J-59 to help direct one-way traffic after a crash involving a big rig. It was pulling a trailer that over turned spilling "white stuff" all over the roadways. The CHP reports they are still trying to figure out what the substance is, but say that the semi and trailer has been pulled off to the shoulder.  Traffic is slow going in the area.
Original post at 10 a.m.: Keystone, CA – A big rig crash has resulted in traffic delays for travelers along Highway 108 in the Keystone area of Tuolumne County.
The wreck happened just after 9 a.m. when a trailer, being pulled by the semi, over turned spill possible hazardous material on the highway at the J-59/La Grange Road intersection. The CHP reports "a bunch of white stuff" spilled across the highway. Traffic is backed up both directions. We will bring you more details as soon as they come into the news center.