Winter Means Increased Risk Regarding Hazardous Trees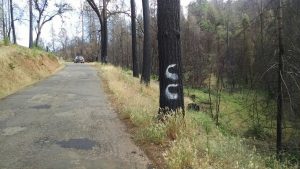 Calaveras County trees marked for removal

View Photos
San Andreas, CA – With a record number of dead and bark beetle stricken trees in California, the harsh winter mix of wind, rain and snow bring an increased risk to property owners and the public in the Mother Lode.
As Calaveras County continues its Tree Mortality Program, officials cautions that both hazardous trees and live trees could be uprooted or topple over making safety for crews and the traveling public an "utmost concern." They advise that on days that are extremely windy, rainy and or snowy, work will stop until it is determined safe for removal of dead and dying trees to continue. In turn, county officials relay that any weather delays could push the project's completion time.
To make sure that the public and property owners are not left hanging out on a limb, county crews will provide assistance if any trees do come crashing down. If the public does encounter a tree that has fallen into or across a County road they can contact the County Public Works Department at (209) 754-6402 during business hours. After hours, on weekends or holidays, the public should contact the Sheriff's non-emergency dispatch number (209) 754-6500 to report a hazard tree.
Of note, the County's Tree Mortality Program Manager wants to remind any land owner that has received a Right of Entry Form to please returned right away. If not returned, properties cannot be included in the free tree removal projects. For additional tree removal information click here or call Dr. Richard Harris at (707) 685-5508.