Busy Weekend For Traffic Stop Arrests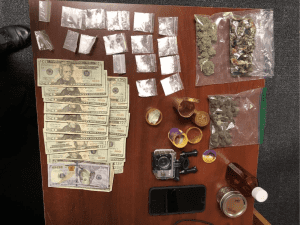 Christensen Dec 9 2018 Arrest TCSO Evidence Photo

View Photos
Sonora, CA — Sharp eyes of local law enforcers led to a number of local residents' arrests this past weekend.
According to Tuolumne County Sheriff's spokesperson Sgt. Andrea Benson, late Sunday afternoon, a sergeant pulled over a Mitsubishi Lancer on Longeway Road in Sonora for expired registration and heard the driver, 27-year-old Sebastien Christensen of Sonora, admit to having drugs in his car.
A subsequent search turned up an array of psilocybin mushrooms, codeine, concentrated cannabis, over a dozen individual baggies of cocaine, and MDMA (methylendioxymethamphetamine) also known by its street name as Ecstasy. Christensen was arrested and booked into the Tuolumne County Jail on numerous charges relating to the possession and transportation for sale of a controlled substance and assigned a $50,000 bail.
Alleged Burglar Also Nailed For False Vehicle Registration
Benson also reports that deputies responded early Sunday evening to a burglary call on Twist Road in Jamestown. She says 18-year-old Juan Padilla-Alvarez, a resident of the home, allegedly entered a room belonging to the victim, stole an Xbox gaming device and games, and changed the locks on the residence without consent. Later contacted by a deputy, Padilla-Alvarez admitted to entering the bedroom without consent and taking the items, which were recovered from his Toyota Camry and returned to its rightful owner.
He was arrested and in addition to charges of burglary and possession of stolen property, he faces a charge of displaying false registration tabs on his vehicle after a records check of the Toyota revealed it had an expired registration — even though it was displaying current registration tabs. His bail was set at $50,000.
Additionally Benson shares that after stopping a blue BMW Saturday night for an expired registration violation, a sheriff's sergeant received an affirmative reply when he queried the driver, 23-year-old Jesse Reisbeck of Sonora, as to if there might be anything illegal in the vehicle. She says that Reisbeck handed over a small container of cocaine and also admitted to having a gun.
Drugs, Gun, Ammo Recovered From BMW Driver
During a vehicle search, arresting officers located a black backpack containing a black Taurus revolver along with a box of .357 ammunition and drug paraphernalia on the passenger seat. In addition to possessing a controlled substance, drug paraphernalia and a concealed firearm, he was charged with having a controlled substance while armed with a loaded firearm, being an addict in possession of a firearm and assigned a $25,000 bail.
In Calaveras County, deputies who recognized a wanted subject in a passing vehicle late Friday night pulled it over in the area of Highway 4 and Pine Drive in Arnold and wound up making two arrests, mostly relating to outstanding warrants.
According to sheriff's spokesperson Sgt. Rachelle Whiting, 32-year-old Zachary Anglin of Murphys was picked up on multiple outstanding felony and misdemeanor warrants relating to possession of a stolen vehicle and burglary. It turned out that another vehicle occupant, 33-year-old Paul Fowler of Sonora, also had numerous warrants out for his arrest, including felonies involving false imprisonment with violence, elder abuse and vandalism.
After the pair was transported to Calaveras County Jail for booking and read warnings regarding bringing illegal substances into the facility, deputies found Anglin in possession of some narcotics and paraphernalia for which he was additionally charged.