Camp Fire Impacted Local Prescribed Fire Training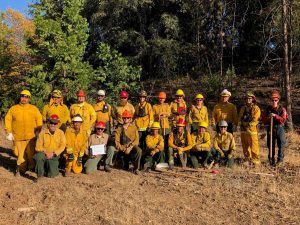 Trex Training participants

View Photos
Wilseyville, CA — While organizers of last month's prescribed fire Training Exchange or TREX in Calaveras County are calling it a success, they note some of the exercises had to be scrapped due to the deadly Camp Fire.
As reported here earlier, the live fire training was to span ten days and involve work on private lands in the West Point, Glencoe, Wilseyville, Arnold, and Dorrington areas. The 20 participants were to get hands-on fire experience to better understand the art and science of fire management and ecology. However, organizer and Natural Resources Advisor at the University of California Cooperative Extension – Central Sierra Susan Kocher relays that due to the explosion of the Camp Fire no flames could be ignited for the training because the required back up resources were called to battle the mega blaze. She adds it is an ongoing problem regarding using prescribed burns for fire prevention.  "I really think it shows just our exact dilemma. It's hard to get ahead of disasters because you're busy responding to disasters," advised Kocher. "So, we just need to do everything we can to try and burn at all times of year to try to get ahead of these tragic wildfires that are happening."
Another complication was brought on by Mother Nature. Kocher explains, "The weather did not cooperate. That is one of the big issues with prescribed fires – finding the right burn windows." Even with those obstacles she says trainees were able to accomplish a wide variety of exercises and also prepare the burn units for possible burning in the future. Kocher details, "They also received lessons in burn planning, measuring fire weather, fuel moisture and quantity, and fire effects. The group carried out several complicated training scenarios, including conducting a prescribed fire, doing mobile attack on fire spots, and structure defense."
Participants wrapped up the event with a service project that involved assisting a landowner in Glencoe to reduce fire hazard on a property with a lot of tree slash left after trees killed by bark beetles were removed. The TREX event was put on through a cooperative agreement between The Nature Conservancy, USDA Forest Service and agencies of the Department of the Interior and funded by CAL Fire.