Planning Commission To Review Church Expansion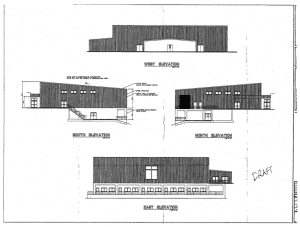 Christian Heights Church Proposed Expansion

View Photos
Sonora, CA — Despite most county offices being closed today for the national mourning of President Bush, the Tuolumne County Planning Commission meeting will still go on as scheduled.
It will begin at 6pm in the Board of Supervisors meeting room in downtown Sonora. One of the items up for review is issuing a conditional use permit for the expansion of the Christian Heights Assembly Of God Church on Joshua Way. The meeting documents note that the church is hoping to construct a 17,520 ft. addition to the existing 19,440 ft. church building. It would house a multipurpose room/sanctuary and classrooms. In addition, the overall plan calls for adding a splash pool and waterslide, installing lights around the existing athletic field and constructing a small recreation and classroom facility on the northeast portion of the athletic field.
In other business, the Cold Springs Development Company is requesting a conditional use permit to construct a 128 ft. wireless telecommunications tower in the 29000 block of Highway 108 in Cold Springs.
Also on the agenda is a proposal to divide 146 acres, of a 392 acre parcel, into 12 separate parcels. That property is along the northeast side of Green Springs Run and O'Byrnes Ferry Road.
Tonight's meeting is open to the public.