New Owners Hint At Plans for Copperopolis Town Square, Saddle Creek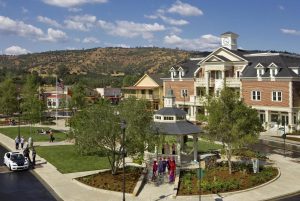 The Square at Copper Valley

View Photos
Copperopolis, CA – A sleeping giant of a development plan appears to be rustling awake in Calaveras County with the sale of an entire portfolio of extensive local holdings.
Officials at Copper Valley, LLC officially shared this week that their company closed escrow with Castle & Cooke on Nov. 15 but did not include details of the price or terms. Among the acquisitions, all located in Copperopolis, are Saddle Creek Golf Resort, a semi-private golf club and residential community; also the partially completed mixed-use Copperopolis Town Square at the intersection of Highway 4 and Little John Road. The Saddle Creek development features an 18-hole championship golf course, several overnight rental bungalows, and numerous yet to be built home sites.
Also included in the sale are Copper Valley Ranch a 1,770-acre undeveloped parcel; Saw Mill Lake, a 247–acre parcel just south of the town square; and various single nearby parcels.
New Timeline Plans By Early 2019  
Commenting on the sale, Mike Fletcher, one of the principals in CV Development Partners, LLC, who is serving as the development manager for Copper Valley, LLC, states, "We are very excited about the acquisition and we are anxious to continue to build upon the various development plans put into place by Castle & Cooke." He adds that the release time of new plans for the portfolio's various Copper Valley projects, still in the preliminary planning stages, will be in the first quarter of next year.
"The first phase will include the construction of homes in Saddle Creek on the existing finished lots, and enhancements to the existing amenities and we will also be enhancing and adding to the Copperopolis Town Square," he confides.
Troon Golf, the global resort and daily-fee club operations division of Troon, announced in a release last week to golf industry publications that it will be managing the golf, restaurant, bungalow rentals and club operations at Saddle Creek. Its stated goals will be to work with the new ownership and onsite team "to further elevate operations, food and beverage, agronomy and overall experience." Troon, which describes itself as the world's largest professional club services provider, provides its services at more than 360 locations across 31 countries and 37 states, according to its website.
Revisiting What Fell By The Wayside 
Ahead of the Great Recession, Castle & Cooke back in the summer of 2006 requested that Calaveras County amend its General Plan for two proposed projects to be located within its Copperopolis land holdings: Sawmill Lake and Copper Valley Ranch. It never happened and both projects stalled on the planning table.
Despite extensive efforts by Castle & Cooke, Sawmill Lake never made it past the planning commission — partially due to the inadequacy of the general plan. It was an intended 245-acre development next to the town square project on Little John Road. The original project called for 600 residences, a performing arts theatre, and a fitness club, which would help provide the necessary population base to support the Copperopolis Town Square commercial development. Copper Valley Ranch, originally described as a 4,350-acre project on Lake Tulloch's north shore, planned for 1,500 homes, a lake club, marina, inn, and neighborhood shopping center.
In light of Castle & Cooke's holdings sale to new owners — and the hiring earlier this year of Kathy Gallino as Calaveras County's first Economic Development Director — updating the county's long-outdated general plan will undoubtedly creep to the top of the board of supervisors' priority list.