Birtwhistle Takes Oath As New Tax Collector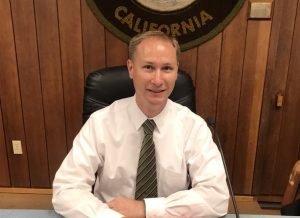 Justin Birtwhistle

View Photos
Sonora, CA — With Tuolumne County Tax Collector Shelley Piech retiring ahead of her term expiring, Justin Birtwhistle took the oath of office this morning to replace her.
Birtwhistle won the June election over challenger Michelle Ronning. In Piech's resignation letter she noted that December 10 is the first property tax deadline, so having Birtwhistle in office would be very beneficial to taxpayers.
Immediately after taking the oath this morning in the supervisors meeting room, Birtwhistle told the board, "This is an amazing appointment. I've very much been looking forward to working with all of you, and members of the community. I've had a lot of help along the way. I want to thank Shelley Piech, Michelle Ronning, county counsel, the board, my family, and in particular my wife Gretchen. Thank you very much."
The appointment was approved by the board, 5-0. Birtwhistle's elected four year-term, meanwhile, will take effect on January 7.