Mother Lode's New Senator Borgeas Takes Oath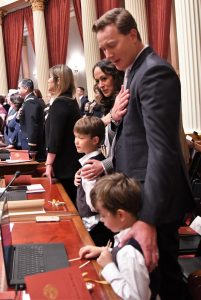 Andreas Borgeas with wife Anna and their two children

View Photos
Sacramento, CA — Andreas Borgeas, elected to replace the termed-out Tom Berryhill, took the official oath of office at the state capitol.
Borgeas, a Republican, and recent Fresno County Supervisor, defeated Democratic challenger Paulina Miranda in the General Election. He was joined at the swearing-in ceremony by his wife Anna and their two boys Aleko and Aris. He says, "It's humbling to know that I am now officially representing the hopes, dreams, and interests of one million Californians in the State Senate."
Borgeas says his top priorities will be working on water and infrastructure issues, developing more educational opportunities and working to clean up and manage the state's forests, while supporting first responders.
Borgeas is a Georgetown Law School graduate and Fulbright Scholar.
His District 8 covers all or portions of Tuolumne, Calaveras, Mariposa, Amador, Frenso, Inyo, Madera, Mono, Sacramento, Stanislaus and Tulare counties.