Public's Input Sought For Town Center Transportation Plan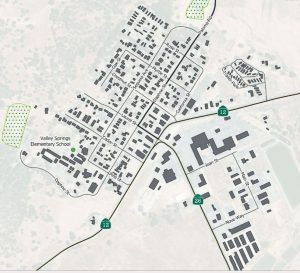 Map of Valley Springs for Town Center Connectivity Plan

View Photos
Valley Springs, CA – The partnering agencies of an effort to make Valley Springs a safer place to walk, bike, and drive are holding the first of three public meetings to engage local residents and businesses.
The session, scheduled for tonight from 6 to 8 p.m. at Valley Springs Elementary School (240 Pine St.), officially gets the ball rolling for seeking stakeholder input for developing "The Valley Springs Town Center Connectivity Plan," under the umbrella of an overall Valley Springs Complete Streets Capital Infrastructure Plan.
Officially funded through a Caltrans Sustainable Transportation Planning Grant last December by the agency, which is partnering with the Calaveras County government and Calaveras Council of Governments (CCOG), it will provide an implementation framework to improve transportation-related safety and access for students, residents, shoppers, and visitors.
The focus is to develop transportation solutions and realistic projects, based on available near-term and long-term funding sources, that improve student and resident safety, improve vehicular circulation, and create a bicycle and pedestrian-friendly community for all ages and abilities.
A Suite Of Solutions Sought For Safe Connectivity  
The project partners, led by CCOG, selected contracting companies GHD and Design Workshop earlier this year to complete the plan. The Valley Springs Town Center Connectivity Plan will specifically identify and prioritize projects that provide safe connectivity within the town center; also between Valley Springs Elementary School, residential uses, commercial services, and retail destinations along the Highway 12 and 26 corridors.
Early stage plan elements call for the formation of an advisory committee of local community members and organizations; stakeholder interviews with residents, property owners and businesses that will be impacted; and three community meetings for the purpose of gathering input. Following tonight's event, two more will follow within later stages of plan development.
Specific input and data collection sought includes information to determine the scope and location for new safety-focused transportation infrastructure, including intersection configurations, sidewalks, bicycle facilities, crosswalk enhancements, roadway striping, and signage.
While vision documents, site plans and project timeline yet to be developed, a related website is up and running where public comments are being taken. For access it, click here.