California Wildfires Put Out 68-Million Tons Of Carbon Dioxide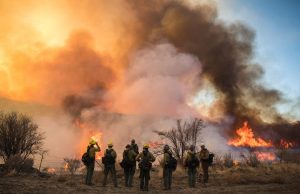 Woolsey Fire

View Photos
Washington, DC — Interior Secretary Ryan Zinke reports that wildfires in California so far in 2018 have put out the equivalent amount of carbon dioxide as it takes to provide electricity to the entire state in a year's time.
A new report released by Zinke cites data analyzed by the US Geological Survey. The 68-million ton figure is the equivalent of 15-percent of all emissions produced in a year in California.
Zinke states, "We know that wildfires can be deadly and cost billions of dollars, but this analysis from the U.S. Geological Survey also shows just how bad catastrophic fires are for the environment and for the public's health."
Two of the fires, the Camp and Woolsey incidents from November, combined to produce nearly 5.5-million tons.
Zinke released his report as he is requesting additional Congressional approval to implement forest thinning projects.