Sonora Property Hit Twice In One Week By Burglars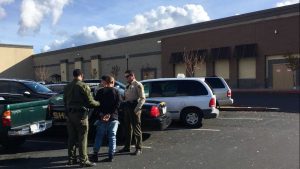 Arrest scene at Sonora Walmart

View Photos
Sonora, CA – A watchful neighbor tipped off Tuolumne County Sheriff's Deputies to burglars that hit the same Sonora property twice in one week.
A detached workshop on a Draper Mine Road residence was broken into on Wednesday evening. The thieves got away with over $2,000 worth of tools. On Friday morning, the burglars targeted the home on that same property. It was then that a neighbor spotted two men getting into a white Dodge minivan with bumper stickers on it and leaving in a hurry.
A notice was issued to law enforcement in the area with a description of the minivan. A short while later, an off duty Sheriff's Sergeant observed the get-a-way van in the Sonora Walmart parking lot. Inside was 31-year-old David Luque who is on parole out of Stanislaus County for burglary. A search of the minivan turned up some of the stolen items and paraphernalia associated with heroin use. The stolen items were returned to the owner.
Luque was taken into custody without incident for burglary, grand theft, possession of stolen property, criminal conspiracy and possession of drug use paraphernalia. Deputies were not able to locate his accomplice at the store. The investigation is ongoing as detectives work to identify that person.