Emergency Fire Restrictions Lifted On Mother Lode BLM Lands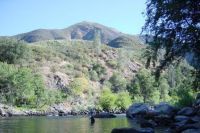 Tuolumne River

View Photos
Sonora, CA – The Bureau of Land Management Mother Lode Field Office has lifting its emergency fire restrictions on 230,000-acres of public land, due to reduced wildland fire potential.
The end of the ban, which was enacted on May 25th, means target shooting can resume on public lands in all or portions of 14 central California counties that include the Mother Lode Field Office in the Sierra Nevada foothills in Amador, Calaveras, Colusa, El Dorado, Mariposa, Merced, Nevada, Placer, Sacramento, San Joaquin, Stanislaus, Sutter, Tuolumne and Yuba counties. The easing of restrictions also impacts BLM recreational areas along the American, Merced, Mokelumne, South Yuba and Tuolumne rivers.
BLM officials want to remind the public to be cautious when recreating on public lands to prevent a wildfire. Outdoor enthusiasts should note that hot bullet fragments and exploding targets can ignite a blaze. Also, tracer round ammunition and incendiary devices are not allowed. They recommend using paper targets to eliminate sparks. Target shooters are required to collect all spent shells, brass and targets. Anyone caught intentionally or unintentionally starting a fire could be held responsible for its suppression and repair costs.