Santa Fly-In And More Holiday Fun Activities Abound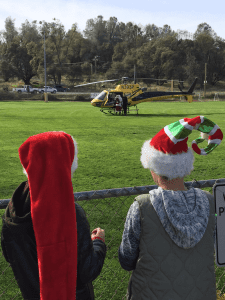 2017 Santa-Fly-in and Interfaith Coat Drive helpers watch St. Nick arrive

View Photos
Sonora, CA — It's a very busy weekend ahead of the Christmas holidays in the Mother Lode, chock-full of related festivities.
From 9 a.m. until noon Saturday, rain or shine, Interfaith elf helpers will be helping collect your new and gently used coat donations at Standard Park ahead of St. Nick's arrival for the annual Santa Fly-In. Once the Jolly Elf takes his seat, all the children who come out will have opportunity to whisper their wishes into his ear and pose for Santa pics.
Slated Saturday in Calaveras County are two holiday parades that will trigger temporary road closures. The Valley Springs Christmas Parade will close Daphne and Pine streets from 10 a.m. until 1 p.m. The Mountain Ranch Christmas Parade will shutter Garabaldi and Washington streets from 1 to 2 p.m.
Theatre, Holiday Fairs, Lamplighter Tour, And More
It's opening weekend for Murphy Creek Theatre's Inspecting Carol, a comedic mash up of two plays, including A Christmas Carol. In other musical theatre-wise productions this Saturday and Sunday, Sierra Rep's Holly Jolly Christmas, an SRT original first, created and directed by Scott Viets, plays this weekend in East Sonora, chock full of seasonal spirit, singing, dancing and humor. Meanwhile, at Columbia State Park's Fallon House Theatre, Sierra Rep's Away In A Basement: A Church Basement Ladies Christmas delivers a dose of 1959 nostalgia, humor and heart. Too, Mountain Youth and Community Theatre's Scrooge The Musical is playing at its venue in Sonora. This weekend also brings the Columbia College Community Chorus' annual Sounds of the Season concert at Sonora Opera Hall.
On Saturday, St. Patrick's Catholic Church Christmas Fair in Sonora leads off with a pancake breakfast at 7 a.m., includes lunch and plenty of gift booths and other attractions until 4 p.m. Mountain Christian Fellowship's Holiday Craft Fair & Boutique in Forest Meadows runs from 9 a.m. until 4 p.m.
Saturday early evening at Columbia State Park, The Lamplight Tour: A Columbia Christmas Calamity or Aunt Martha's Travelling Fruitcake features a humorous, history-packed tour through the holiday festooned town during a walking play featuring various vignettes with music, dancing and refreshments at the windup.
Sunday's Seasonal Happenings
Sunday in Groveland, celebrate the holiday season while supporting The Little House, Wheels, and Village on the Hill during the Holiday Inn & Home Tour, featuring three lovely inns and three uniquely designed private homes, all decorated for Christmas. The event precedes Southside Community Connections-sponsored "Light the Season" at Little House, which includes a tree lighting and carols led by the Pine Cone Singers and more.
Too, the impressive Velocity Handbells Ensemble performs seasonal music at St. Matthews Lutheran Church as part of the St. James Concert Series at 3 p.m.
For Saturday's full events listing, click here. For Sunday's roster, click here.