Recent Mother Lode Storms Ring In Winter Sports Season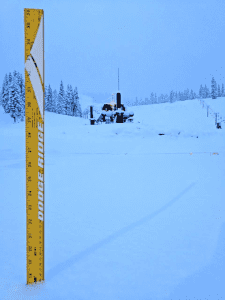 Dodge Ridge Nov 30 2018 snow level image

View Photos
Sonora, CA – Boosted by recent high country snow, the ski and ride season is kicking off in earnest this weekend.
Dodge Ridge, which depends on 100 percent natural snow for its operations, will crank up its lifts at 9 o'clock Saturday morning for the first day of its 2018-19 season and have over 60 percent of the mountain open. The resort reports that it had a "perfect" first snowfall Thanksgiving Week with optimal base-building and ground-freezing conditions to prepare for successive storms.
"This week, we picked up 30-plus inches at the summit…17 inches at our base area…the trees are just flocked…the groomers are out there on the mountain now getting the mountain ready," adds spokesperson Jeff Hauff.
Asked how this season's opening stacks up against years past, Hauff shares, "If you look at our [history], we have been doing this almost 70 years…and so during that timeframe…the opening date has statistically been almost always during those first two weeks of December — so this is right on par with what this resort is used to." What a difference a water-year can make — as last season the resort opened Jan. 27.
Ski Bus, Bear Valley Resort Scoop 
For those who use the Tuolumne County Ski Bus to get to and from Dodge Ridge, it will initiate full operations beginning Saturday, Dec. 8; running weekends and holidays through the season. The roundtrip route includes multiple stops between Sonora and the resort. For more details about Dodge Ridge, click here.
Bear Valley Resort, which has snowmaking equipment to augment what Mother Nature delivers, opened for tubing and beginners' skiing only last weekend and is maintaining a weekends only schedule until Dec. 15.
However, this Saturday, six of the resort's ten lifts will be open, beginning at 9 a.m. Officials report that the latest storm system dropped nearly two feet of snow in the past 48 hours and that they anticipate six to ten more inches before weekend's end.
For more details about Bear Valley Resort-related activities, click here.
To click recent image captures of conditions at both resorts, click into the image box slideshow.