Update: Power Outages in Tuolumne County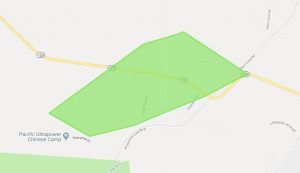 Chinese Camp power outage

View Photos
Update at 2:20 p.m.: 31 PG&E customers still without electricity in the Chinese Camp area along Highway 120  will have to wait a while longer before their lights are restored. The utility has pushed the repair time to 11 p.m. The cause of the outage is attributed to a vehicle into a power pole in the area.
Update at 2 p.m.: PG&E is reporting a vehicle into a power pole as the cause for an outage impacting the Chinese Camp area. Out of the initial 189 customers without lights since around 11 a.m., 31 remain without electricity. The  company gives a restoration time of 2:30 p.m.
Update at 1 p.m.: A PG&E crew has made progress on a power outage in the Chinese Camp area.  31 customers remain without power along Highway 120 and High Tech Drive. Originally, 189  were without lights since 11 this morning. Full restoration is estimated by 2:30pm, according to a company post. What caused the outage is not immediately clear but repair crews are on the scene investigating.
Update at noon: The earlier outages on Tinnin Road and near Andrews Road have been restored. However, there is a new outage impacting 189 customers in the Chinese Camp area. Full restoration should come by 2:30pm.
Original story posted at 9:15am: Sonora, CA — There are two power outages this morning impacting a combined 33 PG&E customers in Tuolumne County.
The largest is impacting 31 customers on Tinnin Road, off Wards Ferry Road, near the Ranchettes subdivision. PG&E is investigating the cause of the outage and hopes to have everyone restored by 11:45am. There are two customers without power in the Groveland area off Andrews Road. PG&E discovered a problem with one of its transformers and is working to make repairs. Those two customers should be restored by around 1:45pm.