Alleged False Impersonator, Mail Thief Nabbed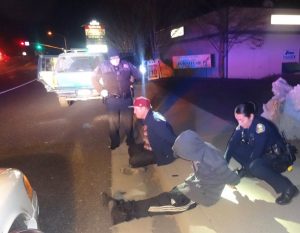 Sonora Police arrest on Mono Way by The Junction Shopping Center Nov 21 2018

View Photos
Sonora, CA – During a short workweek for many Sonora Police made short work early this morning of a traffic stop, resulting in two arrests.
In the wee hours just before 1:30 a.m., officers reports that on Mono Way near The Junction Shopping Center, they initially pulled over a Ford Explorer for an equipment violation.
The driver, who turned out to be 35-year-old Craig Simonson of Modesto, gave police an ID with another person's name on it while claiming to be that person. However, after personnel ran a fingerprint check, they were able to determine the suspect's true identity.
A subsequent vehicle search turned up methamphetamine, drug paraphernalia, and a bag full of suspected stolen mail, which looked to be from several Central Valley cities. Booked at the Tuolumne County jail, Simonson now faces a felony charge of falsely impersonating another along with several misdemeanors; his passenger, also charged with two misdemeanors.